About Studio47 Architects
In 2012, after 16 years in the corporate environment, Bryan Mulligan left the office for the last time and the following morning he launched Studio47 Architects. A commercial and residential architectural firm offering services in building design, interior design, home design and master planning. We are balanced, engaging and resourceful, resulting in unique solutions and innovative ideas.
More about its founder…
Bryan Mulligan began his career in the late 1980's as a part time intern at Woods Group Architects in Costa Mesa, CA. He continued his architectural studies and holds degrees from Orange Coast College, in Costa Mesa and Syracuse University in upstate NY, a rigorous education that included European studies from Florence, Italy in 1995 & 96.
January of 1997 he joined the staff at Di Giorgio Associates in Boston, MA and went on
to build a solid career in commercial and residential design with Perry, Dean, Roger |Partners, Bargmann, Hendrie + Archetype and Menders, Torrey & Spencer, all Boston architectural firms. In 2008 he began serving as teacher/thesis advisor to architectural graduate students at the Boston Architectural College and in 2009 joined Team Boston for the 2009 Solar Decathlon as a professional design and construction consultant.
From the architect…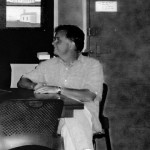 "My work in the first 16yrs involved award winning commercial and residential projects characterized by an innovation that was unique to each client. As a champion-eur of ideas (not a real word, but I like it) I carry on this ideal and keep it at the core of Studio47. A studio environment that is collaborative, encourages imaginative thought and maintains a focus that is passionate and methodical but humble and realistic. With two decades of training and practicing experience in building design, interior design and home design, I have a great deal
invested in the character of this firm and will always position myself and those I collaborate with as the client's agent and advocate. This will provide you, the client, with someone you can point to and know it will get done, your way. Positive nurturing of a client/architect relationship that extends beyond project completion is a principle that is essential to my style of practice."